FAST TRACKING GROWTH OF YOUR SOFTWARE PRODUCT
---
Streamlining Releases with Release Train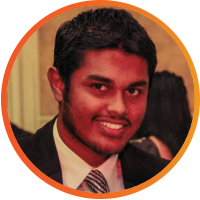 Sabry Moulana
Technical Lead
Certified Scrum Master

Sabry is a full stack developer with over 3 years of experience in the Software Development industry. He holds an Engineering Degree with First Class Honours from the University of Westminster. He currently works as a Team Lead at 99X Technology Ltd based in Sri Lanka. As a developer Sabry's poisons include but are not restricted to JavaScript (Vanilla and all), Hybrid Application Development and .NET Framework. He takes great pride and responsibility in the work he does and always strives to deliver a quality product. He currently leads a team of 4 developers and 1 tester working on one of the most exciting projects in 99X Technology.
A Webinar by Sabry Moulana
As specialists in product engineering for over a decade, we truly believe in delivering well-engineered, quality tested products to the market in record time.
Release cycles: A critical element of product growth often taken for granted by many, is a great area to optimize. Traditionally, a release would provide many features and bug fixes to the customers/consumers, and the frequency could vary over different periods of time, depending on the customer's requirement. A release would often take many hours in terms of pre-release testing, post-release testing and branch reconciliation. This is where we identified room to improve and came up with an optimum solution in ensuring that our clients' needs were met. Our success story lies in the adaptation of the 'Agile Release Train' to streamline releases, and will be presented by Sabry Moulana, Technical Lead at 99X Technology – a pioneering product engineer who played a critical part in the design and implementation of the methodology.
Join us on
Tuesday, 25th July 2017 at 2.00PM (GMT +5.30)

to see how Release Train could work for you!